Airports, malls, museums: surprising green locations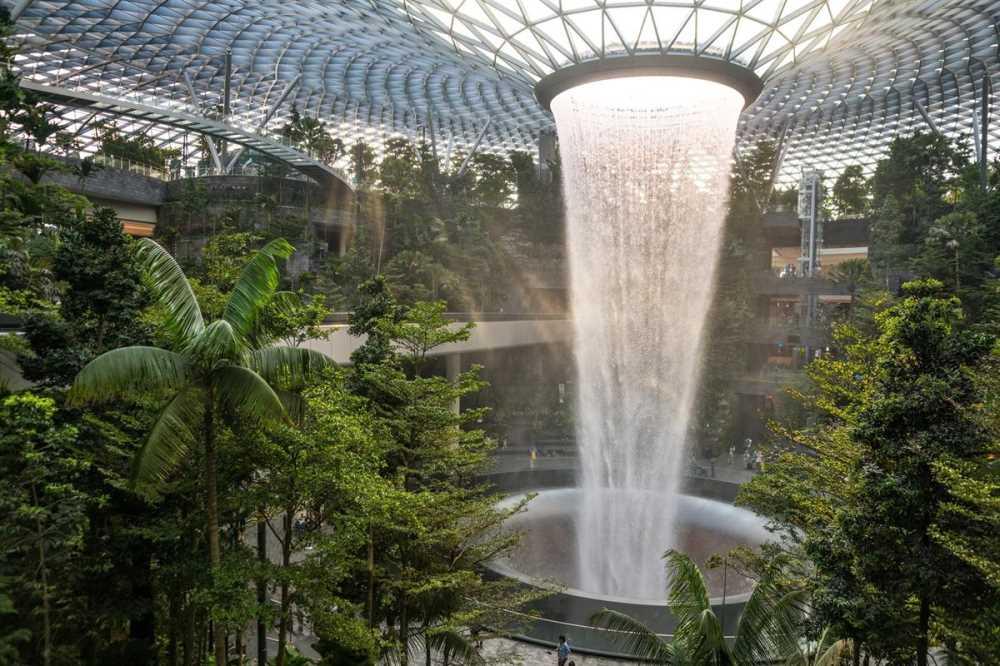 Green jungles in airports and train stations, gardens in shopping malls, urban gardens in terminal waiting rooms: when architecture meets green design the effect is surprising. But the goal in this case is even nobler: not just to amaze the public or provide a new architecture for public spaces, but to offer a new type of experience to people by creating a "hybrid" setting where the outdoors are brought into closed spaces, adding variety and character. Let's take a look at a gallery of surprising green locations around the world that enchant thousands of visitors every day.
Singapore Airport's "Magic Garden"
Changi Airport is the seventh airport in the world for international traffic, but since the Singapore hub has been wrapped in a "Magic Garden", this figure has become less important for travellers. Their eyes are no longer focused on the video terminals listing departures, but rather looking for the Rain Vortex, which at 40 metres of height is the highest indoor waterfall in the world, or the path that leads to the Valley of the Forest, an indoor jungle that occupies five floors, and then finally reaching Canopy Park on the top floor, a playground for adults and children that includes hedge mazes, suspended bridges, flowering gardens and other surprising attractions immersed in greenery. Inaugurated in spring 2019, Jewel Changi Airport is an architectural complex that envelops and distinguishes the traditional airport, introducing a new concept of design, as explained to CNN by its creator, the world-renowned architect Moshe Safdie: "I wanted to explore a new kind of urban space, a space you go to as a matter of course, because you need to shop, because you're flying out somewhere, and yet it's a garden. I think one of the reasons we won the bid was that the other submissions looked like malls and felt like malls, while this one, you don't think of it as a mall, because it's a new kind of experience. It makes us rethink what urban areas could be like if we stretch our thinking".
The Urban Garden in Chicago Airport
A different kind of combination of nature and airports can be found in the Chicago airport, where design melds with eco-sustainability in the form of an indoor "aeroponic" urban garden (i.e. plants without soil, the roots being fed by a nutrient "mist"), which is the source of organic vegetables for four restaurants in the airport. This way travellers not only get to enjoy fresh produce, but they can relax in a green oasis where green beans, peppers, basil, chives and flowers grow as they wait for their flights.
A park in the waiting room
Schiphol Airport in Amsterdam put some thought into the wellness of frazzled travellers as they wait to depart. The Dutch port of call thus introduced a park in the waiting room designed by Maurice Mentjens, furnished with rustic furniture and living plants, mirrored walls that recall the most famous forests in the world and trunk-shaped benches. A green space overlooking the outdoor garden, a pretty space en plein air with a café serving – obviously – organic food.
The tropical garden of Atocha station in Madrid
One of the most beautiful tropical gardens in the world is located in Spain, at the Atocha railway station in Madrid. The 4,000 square metres of vegetation that replaced the old abandoned trains in the 80s are the heart of the renovation designed by the architect Moneo. One of the first green redevelopment projects on the Old Continent, it's a splendid, unexpected green oasis inhabited by tropical species.
The world's largest shopping centre has a garden
It's located in China, and it could not be otherwise. But what makes the New Century Global Center in Chengdu surprising is not so much its titanic size – over 1.7 million square metres – but its 400,000 square metre indoor garden, about ten times the size of the park of the Royal Palace of Caserta. Indeed the green space is so vast that calling it a "garden" is perhaps an understatement given that the lush vegetation runs into...a beach (!) that in turn overlooks a Mediterranean-style village.
And in Italy?
To find something just as grandiose and spectacular in Italy we have to look back to EXPO Milano, the universal exhibition that put Italy at the centre of the world for six months in 2015. Many architects interpreted the theme of the edition – "Feeding the planet, energy for life" – with installations and pavilions featuring a marked green imprint, with alpine forests, rainforest jungles, botanical gardens, trails, pastures, mazes, waterfalls and water gardens. It was a trend that drew the attention of public opinion and more than 22 million visitors to garden design like never before. Today, EXPO's message is being echoed first by the Fuorisalone in Milan, which saw increasingly green installations flourish in the streets and courtyards of the city, and then by several architects who assimilated the international stylistic visions admired at EXPO to design sustainable urban oases and magnify some "non-places" typical of our society: shopping centres and outlets. Thus here and there we see flowerbeds and fountains, hedges and gardens, borders and vegetable gardens of all sizes, but all with a common thread: they are all green projects introduced to transform grey and often anonymous spaces into pleasant, surprising green locations, returning the values of freedom and beauty to the outdoors, in harmony with man.

Without flying to Singapore or recreating the spectacular Expo, why not try to transform a corner of your own home with creative green details? A perfect blend of outdoors and indoors that will amaze your guests.