Pergotenda®: much more than a cover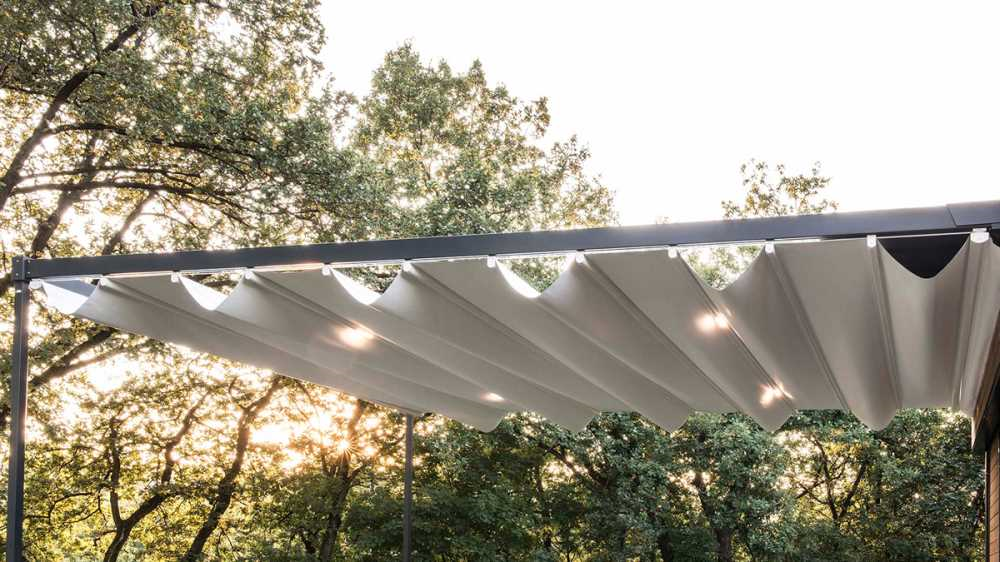 An integral part of the architectural expression of Mediterranean countries with deep, ancient roots, the pergola has always allowed blurring the boundary between dwelling and surrounding nature, as also recalled by Marco De Napoli in his introduction to the book La pergola. Ritratto del mito Mediterraneo nell'architettura del Sud Italia [The Pergola. Portrait of the Mediterranean Myth in Southern Italian Architecture] by Simona Ottieri and Cherubino Gambardella.
Mediterranean architecture: spaces to be experienced and shared
Pergotenda® Corradi was inspired precisely by an in-depth study and reinterpretation of Mediterranean architecture, a patented sliding and folding cover that combines innovative materials, cutting-edge technologies and sophisticated design.
The result of studies and solutions that apply technology and design to a concept that has important roots in our culture of living, for us this product represents a starting point for new ideas that are in continuous development.
Initially a complementary element of the Mediterranean dwelling, over time the pergola has become a protagonist of the outdoors thanks to the many functions that have enriched its simple, linear structure through integrated accessories and technologies. Much more than a cover or entrance, it is the expression of a necessary communication between the interior and exterior of one's home.
A space to be lived in and shared, which has always tended towards forms and materials that facilitate and improve the user's experience.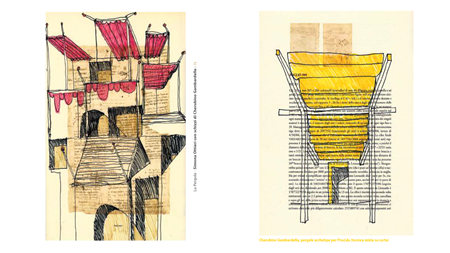 Our Pergotenda®
In aluminium or wood, wall-mounted or freestanding, flat or inclined, open or closed on the sides, Pergotenda® is an icon among outdoor covers. Corradi models feature a wide variety of variants and accessories:
Pergotenda® Millenium® Celeb, developed in collaboration with IAAD (Institute of Applied Art & Design) in Turin, offers cutting-edge performance thanks to its range of standard accessories such as integrated external and internal lighting and numerous combinations of finishes and materials.
Pergotenda® Maestro, featuring multiple identities and configurations thanks to its particular aluminium structure that makes it a highly innovative and high-performance product, but above all practical.
Pergotenda® Palladia®, technological innovation and modern architecture at the service of Italian aesthetics and design. Suitable for both individuals and the contract sector, it conveys a completely new, attractive and functional character.
Creating a harmonious continuum between the interior and exterior, Pergotenda® B-Space is a pergola that's ideal for the contract sector thanks to its sliding awning capable of covering even large surfaces in a solid, linear manner. Exclusive design and structural strength are the essential features that ensure an elegant, reliable outdoor space.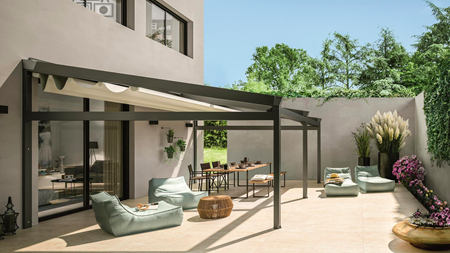 Pergotenda® Flux features curved lines for a creative, harmonious outdoor environment. It has an aluminium structure with a fluid design that can be enriched with discreet side closure systems in harmony with the landscape. Flux conveys simplicity not only in its form, but also in the earthy, essential nuances that recall the colours of nature.
A perfect fusion of minimalism and practicality, Pergotenda® Exyl is the lightweight aluminium pergola with no side closures. A rich palette of colours, ranging from dark to bright tones like ivory and white, gives this product a precious, elegant light.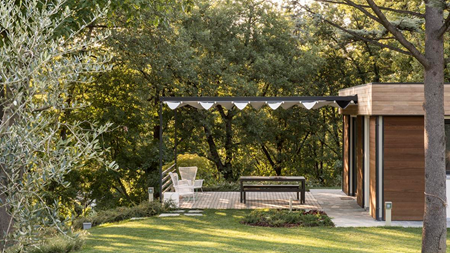 Pergotenda® 45 for those who prefer a more classic, warm and traditional style to contemporary minimalism. The famous "timeless" look that is adaptable to any architecture, for an outdoor space Made in Italy that knows how to convey its roots.
Last but not least, Pergotenda® Impact® is a cover featuring a spectacular scenic effect, mountable on all Corradi products, including any other pergola.

The accessories not only complete the structure but can also boost its performance. New functions are born, and based on ergonomics the inside of a pergola can become whatever you want. Pergotenda® can be used in a variety of ways and for the creation of new spaces and functions.
Outdoor Culture
A continuous, attentive study of the routines and trends of outdoor living has driven our growth and continues to inspire our production, which is increasingly aimed at finding solutions that enrich not only architecture but also our experiences and life itself.
What we call the outdoor culture is for us a constant commitment to the search for new technologies and structures that meet a specific need for comfort and beauty.
Indeed, as Ottieri and Gambardella remind us, "If the profound sense of the past hidden in the place is understood, such design forms can become something else, new and modern, perfectly integrated and proactive, acquiring meaning and value and therefore a new beauty for a renewed architecture".