A SUNDAY AFTERNOON ON THE ISLAND OF GRANDE JATTE WITH GEORGE SEURAT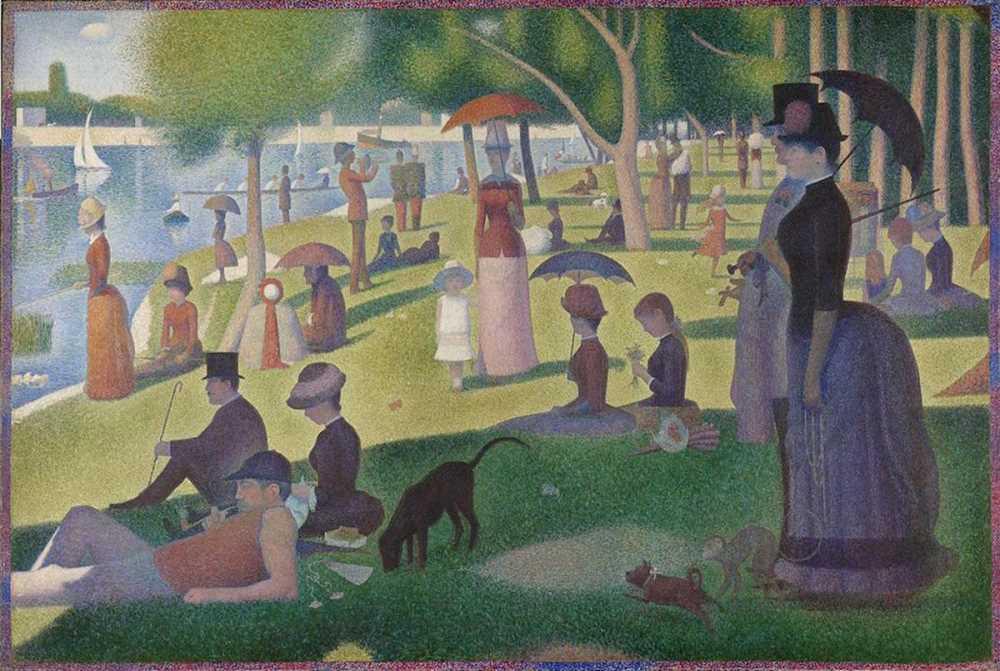 They are a perfect couple, it doesn't matter what is said about them. He, moustached and distinguished, cylinder hat and cigar always in hand. She, composed and elegant, dressed impeccably and with a charming gaze. They came to the park because on Sunday everyone goes there. And because every now and then you have to take out your pet monkey.
A few metres away, a gentleman, half supine, looks in the same direction, towards that horizon that has also captured his thoughts between one puff on his pipe and the next. Nearby, his dog, pitch black... well, maybe not his, maybe the dog belongs to the lady next to him, intent on knitting, with her husband sitting just over there, too far, either due to distraction or to spite.
Two girls settled behind them, in the shadow of the same large tree: one is without a hat and has set her umbrella on the ground, maybe to focus better on the composition of her bouquet; the other, oddly enough, has kept her umbrella open even though she is in the shade. Maybe she was distracted by the little girl in a white dress, holding her mother's hand while she looks at us. We, who along with the painter are situated outside of the picture, are viewing the dawdling afternoon of Sundays on Île de la Jatte, in the heart of Paris.
Everyone is there for their own reasons, whatever they may be, but all share the same cultural horizon, that of the French capital of the late 1800s, made up of industry and bourgeoisie. One went to Grande Jatte to take a relaxing break from normal weekly activities, when there was a need to enjoy a bit of the outdoors. In the park there were all kinds of things to do - walking, talking, fishing - but always sheltered from the sun, with hats and umbrellas, "to not get tanned like the field workers".
George Seurat, the artist, went to Grande Jatte to meditate through his painting tools. He went as often as he needed to make sketches for his painting, impressionist sketches that he would then develop in his studio. Like other artists, he was interested in the worldly life of a city that at the end of the nineteenth century was the pulsating heart of the world.
But what above all else caught the attention of Seurat, the true motive behind this picture, is something more impalpable: light and how it works. So he went to Grande Jatte to experiment with a new way of painting, later called "pointillism". His technique was to dot the canvas with intense colours contrasting with complementary hues, following the same principles that nowadays use pixels to produce images on the TV, computer and smartphones. The result? A brightness never seen before in a painting, which Seurat balanced skilfully by creating a harmonic and geometric composition. The result is a paradoxical representation that depicts Grande Jatte as a mythical place, full of motionless figures, silent and statuary, illuminated in every way by the living force of light.