Lighting: Corradi solutions for your spectacular outdoor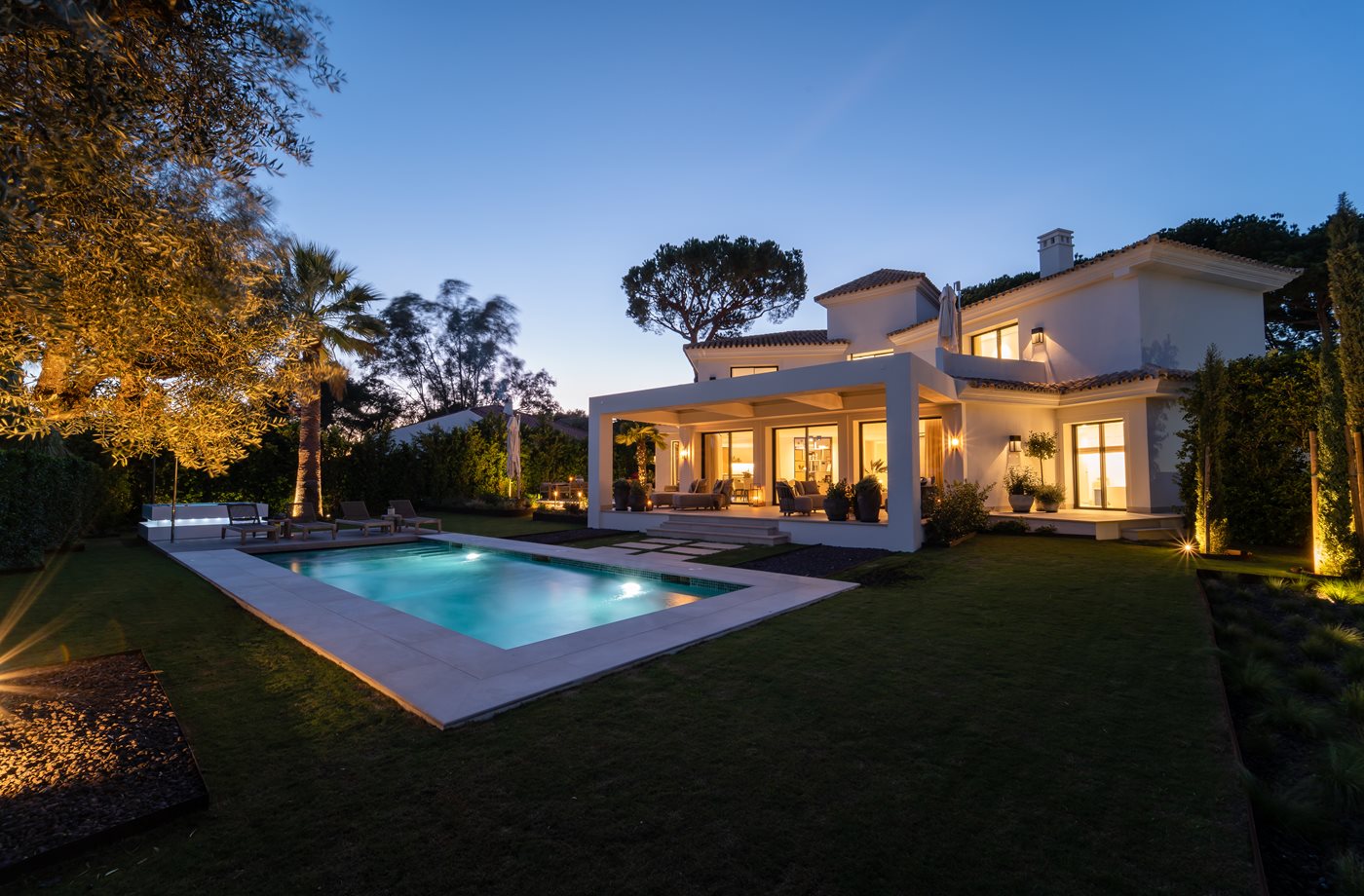 Outdoor lighting is often a proper work of art, the exclusive touch that can make the outdoors an atmospheric setting, where emotions and comfort come together to create a unique atmosphere.
That is why, when we design solutions to furnish terraces, verandas, balconies and gardens, we pay great attention and care to the lighting. We do this with the help of a wide range of accessories specially designed for pergolas and Sun Sails.

Outdoor lighting is a key element in enhancing outdoor spaces, both in the evening and at night. Each décor style requires a specific type of lighting that can emphasise the features of the architecture and meet the needs of the people living there. Among the various outdoor lighting options, warm lights, cool lights, LEDs and spot lights are some of the most popular and versatile choices. Let's find out how to use them to create attractive and welcoming outdoor spaces.

Warm Lights: elegance and tradition
Warm lights emit a more amber-coloured, enveloping tone of light that creates an intimate and relaxing atmosphere. This type of lighting can be used to illuminate pergolas, gazebos and relaxation areas, providing magical moments under the stars.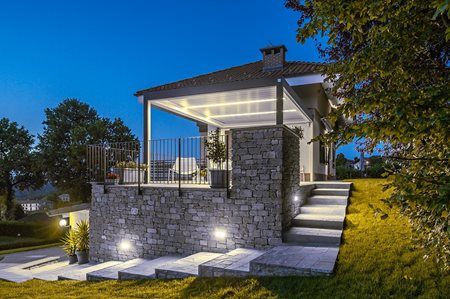 The options available in the Corradi range include Experience: a light kit inserted on the Pergotenda® canvas tubes, available with warm white light or the RGB system, which by means of three coloured LEDs allows for a wide range of colours. With this system the small lights are extremely discreet and almost invisible, making the Pergotenda® canvas brighter and more complete.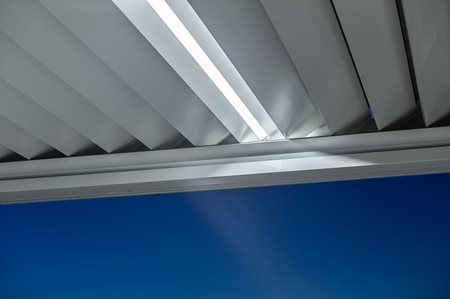 Cool lights: contemporary and sophisticated style
Cool lights emit a brighter, clearer shade of light, perfect for creating a modern, refined ambience. This type of lighting is ideal for outdoor spaces such as courtyards, entryways and passage areas, where intense and practical brightness is desired. Cool lights can be used to highlight architectural elements, plants or pathways, making outdoor spaces look elegant and well-lit, or even on outdoor structures to create entrances and areas with a minimal, contemporary style.

Ray for example is a lighting system that can be used on the internal perimeter of Pergotenda® or bioclimatic pergolas, as well as stand-alone systems (for example affixed to the pillars).

The light is remote controlled and dimmable, so that its intensity and, consequently, the degree of illumination can be adjusted. In fact, with Ray, you will experience customisation possibilities that are typical of Corradi, to create your own ambience, which will be unique and different at all times. A complete and never monotonous outdoor lighting system that enhances the space by catering to your needs or those of your guests and customers.
Outdoor lighting is not simply a detail, but an essential element in creating the right atmosphere and making outdoor spaces usable in the evening. Outdoor lights allow you to enjoy the outdoors without limits, giving warmth to your fondest memories and transforming your space into an oasis of comfort.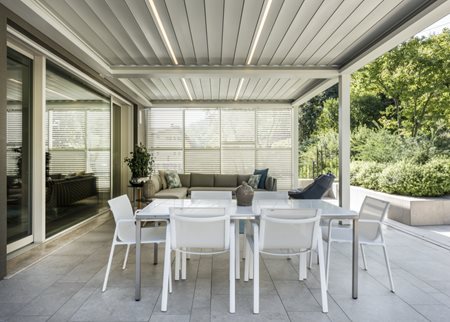 LED: efficiency and versatility in a single solution
LED lights are one of the most popular choices for outdoor lighting due to their energy efficiency and long lifetime. LEDs can be used for both warm and cool light, offering a wide range of customisation possibilities. Integrated into structures such as pergolas and sun sails, they provide discreet lighting with great visual impact.

Spot lights: elegant and orientable
Spot lights are the ideal choice for illuminating specific areas of your outdoor space that you want to enhance. They can be used to highlight plants, sculptures or architectural details, creating scenic and eye-catching effects. Spot lights can be installed on walls or floors, offering a flexible and versatile solution for outdoor lighting.

Outdoor lighting is a key element in making your outdoors an attractive and comfortable space. By choosing the lighting style that best suits your personality and décor, combining warm, cool, LED and spot lights you can create the perfect atmosphere.

Outdoor lighting can be discreetly and functionally integrated, helping to enhance the ambience whether you are looking for dramatic lighting for restaurants and hotels, or to add a touch of class to your garden or patio.