Redesigning the future of workplaces, outdoors.
New trends have always been the result of important changes in the cultural fabric of society and reflect the responses that science, sociology and even architecture offer as solutions – or more precisely innovations – that allow us to make the most of our time and space.
A necessary reflection
We have learned that the mixing of functions is not impossible, that we can work remotely, that our place is where we are most comfortable. In recent months we have adapted to different conditions, we have grown, and so have companies, making considerable progress in realising the importance of well-being in the workplace to encourage productivity, but also to promote dialogue and knowledge. We have changed, and with us also the space that surrounds us and that we deal with on a daily basis.
How we've changed the workplace
Home offices, green areas, shared spaces, relaxation areas: over the course of the past year we've all been engaged in a continuous constructive adaptation that has allowed us to reinvent our daily spaces, including those for work, mostly in the home.
Awaiting a return to normality, there were several attempts to conceptualise the workplace, drawing on architectural elements and solutions that often involved invading the outdoors, incorporating and adapting it to our needs.
We've created new functions, relationships and needs...and we've found creative, original and functional responses.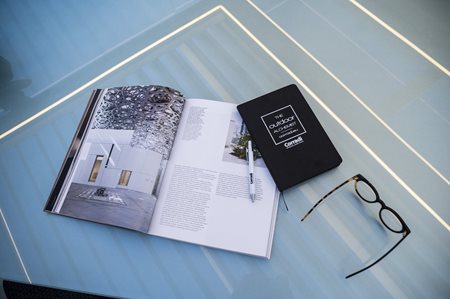 With a view to redesigning and redeveloping urban spaces, companies will also have to evolve, and a new form of outdoor working could be a valid alternative to teleworking: a multifaceted and complex issue that focuses on the relationship between indoor and outdoor areas in public or private workplaces.
In fact, as with any era of change, the redefinition of habits and habitus (understood as ways of experiencing space) is necessary in order to redesign everyday environments according to new needs.
As an element of communication between indoor areas, space to be lived in and shared and a place used for leisure activities, the outdoors can offer one of the most effective solutions, changing design perspectives to adapt and transform appearance and purpose depending on the contingency and who uses it.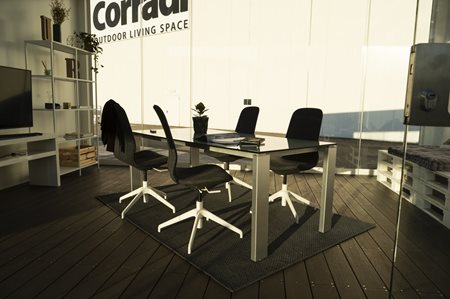 The future
Thanks to this new design approach, all the differentiations between the exterior and interior of the buildings vanish, the concept of seasonality becomes more fluid and each space must be designed to be experienced all year round.
A Bioclimatic can accommodate modern and functional furnishings to transform into an office, warm in the winter and cool in the summer, or to host conference rooms, business meetings, shared offices or even break areas for employees.
Space can and must change its function depending on who uses it. A moving architectural system is able to transform depending on the contingency, and our Pergotendas® with sliding and stacking cover system show that design can change to meet new needs.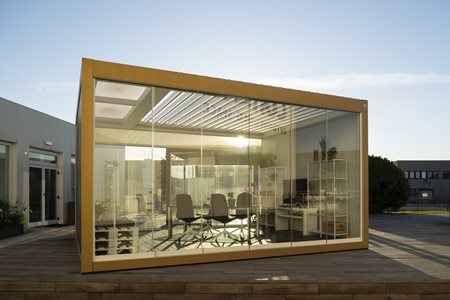 The coming year will bear the fruits of the experience we have just gone through, which has triggered innovation processes that among other things will lead to the expansion of company spaces and new forms of agile work and home working, where the strongly rooted need for the outdoors will find its answer in a cultural ferment of design completely reimagining the world we have known until today.