De Pergola met lamellendak en de Pergotenda®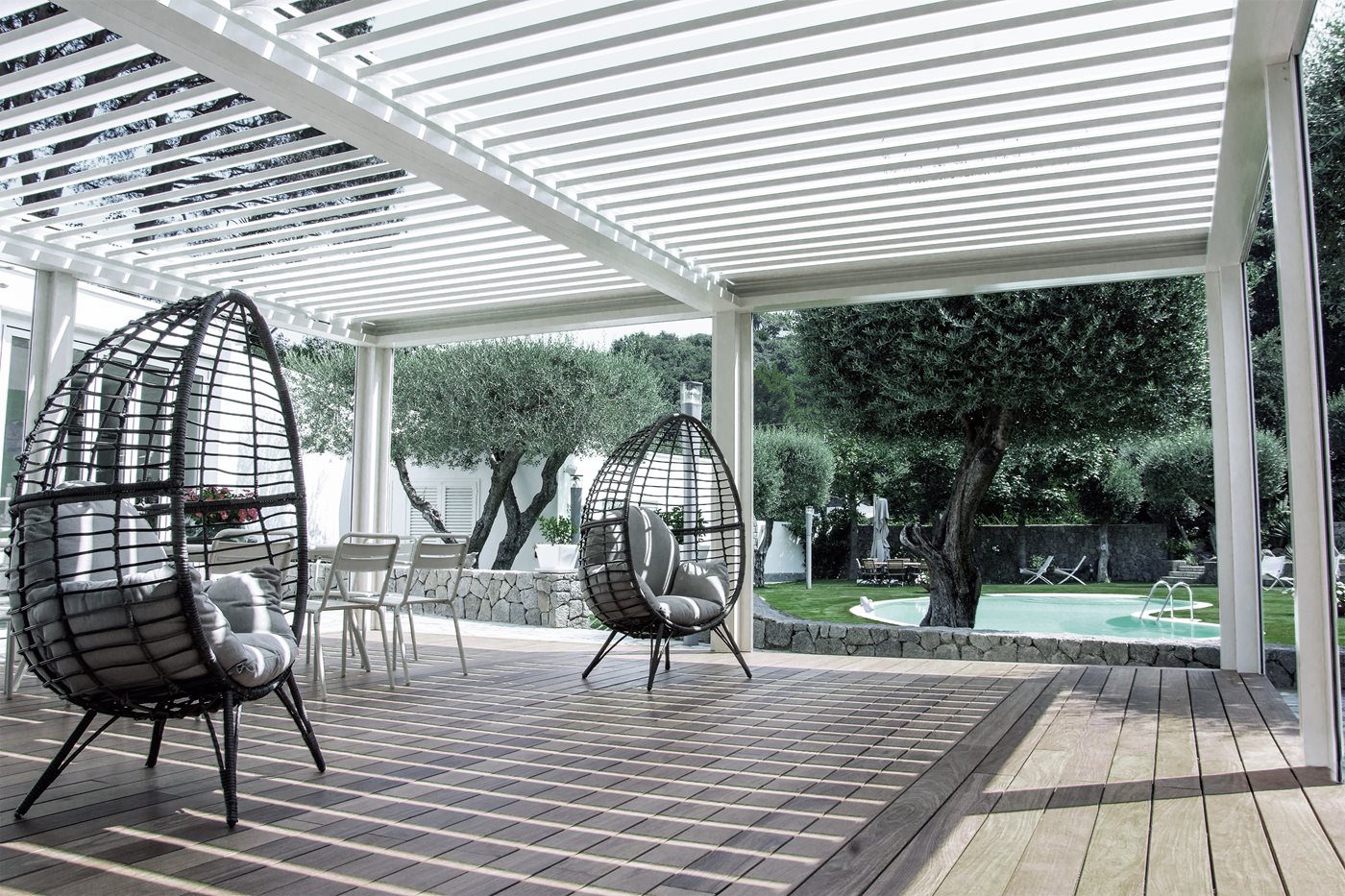 De Pergola met lamellendak en de Pergotenda® zijn allebei oplossingen van Corradi die je de mogelijkheid geven om in ieder jaargetijde te kunnen genieten van de buitenruimte. De structuren verschillen van elkaar voor wat betreft eigenschappen en functionaliteit, waardoor ze tegemoetkomen aan de meest verschillende behoeften voor de outdoor ruimte.
Vandaag hebben we het over Pergola's met lamellendak en Pergotenda® en over hoe kleine details zo'n groot verschil kunnen maken, dankzij oplossingen op maat, van inspiratie voor het gebruik van deze producten in een woonomgeving.



Pergola's met lamellendak
De pergola's met lamellendak zijn, dankzij het dak met verstelbare lamellen, ideaal bij verschillende weersomstandigheden, omdat de temperatuur binnen geregeld kan worden. Zowel in de zomer als de winter, beschermen ze tegen zon en wind. De aluminium overkapping creëert een bijzonder aangename ruimte, want het is mogelijk om de hoeveelheid zonlicht en de natuurlijke ventilatie binnen te regelen, wat bijdraagt aan de temperatuurregeling. De pergola's met lamellendak bieden daarnaast de mogelijkheid om accessoires, zoals zijafschermingen of ledverlichting, te integreren.
De pergola's met lamellendak worden gekenmerkt door een essentieel ontwerp, dat zich perfect weet te integreren met de rest van de omgeving. Daarnaast kan de pergola met lamellendak ook afgesloten worden met glazen wanden of schuifwanden, voor een gezellige en zonnige ruimte die een verlenging van de leefruimte wordt.
Ontdek de modellen op onze site: IMAGO® is de essentie van jouw stijl; Alba, talloze configuraties voor een high-performance model; Maestro, een product met vele identiteiten; Eteria, minimalistische stijl en extreme functionaliteit.

Pergotenda®
Pergotenda® is het door Corradi gepatenteerde systeem met vouwdak overkapping waarin innovatieve materialen, geavanceerde technologieën en hoogstaande vormgeving samenkomen. Ideaal voor wie een eenvoudige en elegante overkapping zoekt, die ook flexibel is; Pergotenda® bestaat zowel in aangebouwde of vrijstaande uitvoering, met vlak of schuin dak, open rondom of afgesloten aan de zijkanten.
Het essentiële en functionele design weet een goede bescherming te bieden tegen zon, wind en regen, voor een beschutte ruimte buiten ook als het weer er niet naar is. Pergotenda® is verkrijgbaar in verschillende configuraties en afmetingen en kan aangepast worden op basis van de persoonlijke wensen: de structuur van aluminium met waterafstotende doek kan ook aan de zij- en voorkant worden afgesloten, om zo een buitenruimte te creëren die beschermd is tegen regen en wind.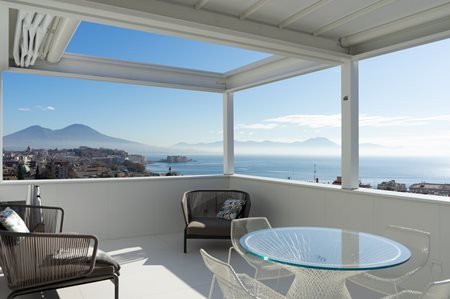 Ontdek de modellen op onze site: Palladia® een markant en essentieel ontwerp voor één van de meest geliefde modellen van Corradi; B-Space, de aluminium pergola voor grote oppervlakken; Impact®, de perfecte overkapping voor iedere pergola; Pergotenda® 45, de houten pergola voor wie van een traditionele stijl houdt; Maestro de full-optional, aluminium Pergotenda®; Exyl de schoonheid die geen overdaad nodig heeft.