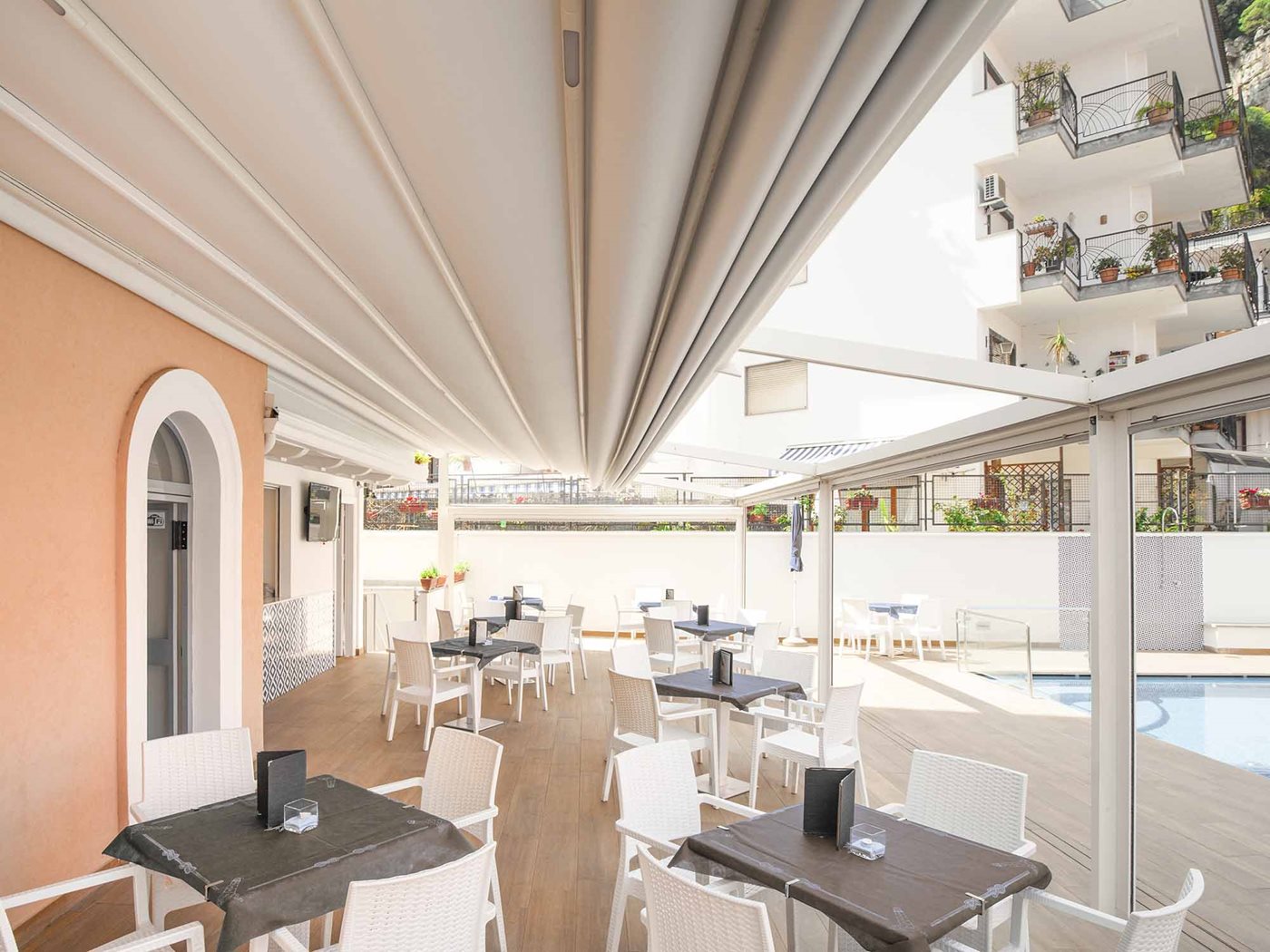 Palladia® Pergotenda®: a panoramic outdoor space on the Sorrento peninsula
Sorrento - Italy
Unmistakable style and a poolside that overlooks the Amalfi Coast, for an accommodation facility with a Mediterranean flavour and rich in contrasts, Villa Maria in Sorrento, where the sea takes centre stage.

An unmistakable personality. This is evident in the shades of colour that characterise every area of the structure, starting with the "peach" of the external plaster and moving on to the typical Mediterranean tones that dominate the interiors. These evolve from orange to the white of the marble columns and flooring in the common areas, to the greens, aquamarine as well as turquoise that make up the furnishings.
The hotel's pride and joy: the pool terrace
The pride of Villa Maria is the beautiful outdoor swimming pool: an elegant setting that allows you to admire one of the most beautiful views in the world while cooling off in the water or relaxing in the shade. The
Palladia® Pergotenda®
was chosen to provide shelter, an aluminium and stainless steel structure with a refined design that can be customised according to requirements. Its installation has made it possible to transform the pool terrace into a small spa within the hotel, where the bar/restaurant completes the guest experience.
Enhancing outdoor spaces with the unique design of Palladia®
Made of aluminium and stainless steel,
Palladia®
has a design with clean lines. The structure can be wall-mounted, flat or inclined, and fits perfectly into any context. When open on the perimeter, its structure emphasises the lines of the front nodes, while using the perimeter closures, it expresses an attractive and innovative character. This twofold nature makes it possible to fulfil the desire for more or less privacy, while remaining in harmonious communication with the elements of nature, which can be enjoyed several months a year.
Thanks to Palladia
®
Pergotenda
®
, the magic of the coastline and the relaxation of an evocative and relaxing space come together to create an enchanting setting for a comfortable and unusual experience.
Location
Villa Maria, Sorrento (NA)
Images
Alessio Mitola for Archikiller Lab
Project management
Scarpati forniture generali di Carmine Scarpati & C. snc