Side closures: the accessory that makes the difference for your outdoor living space all year round.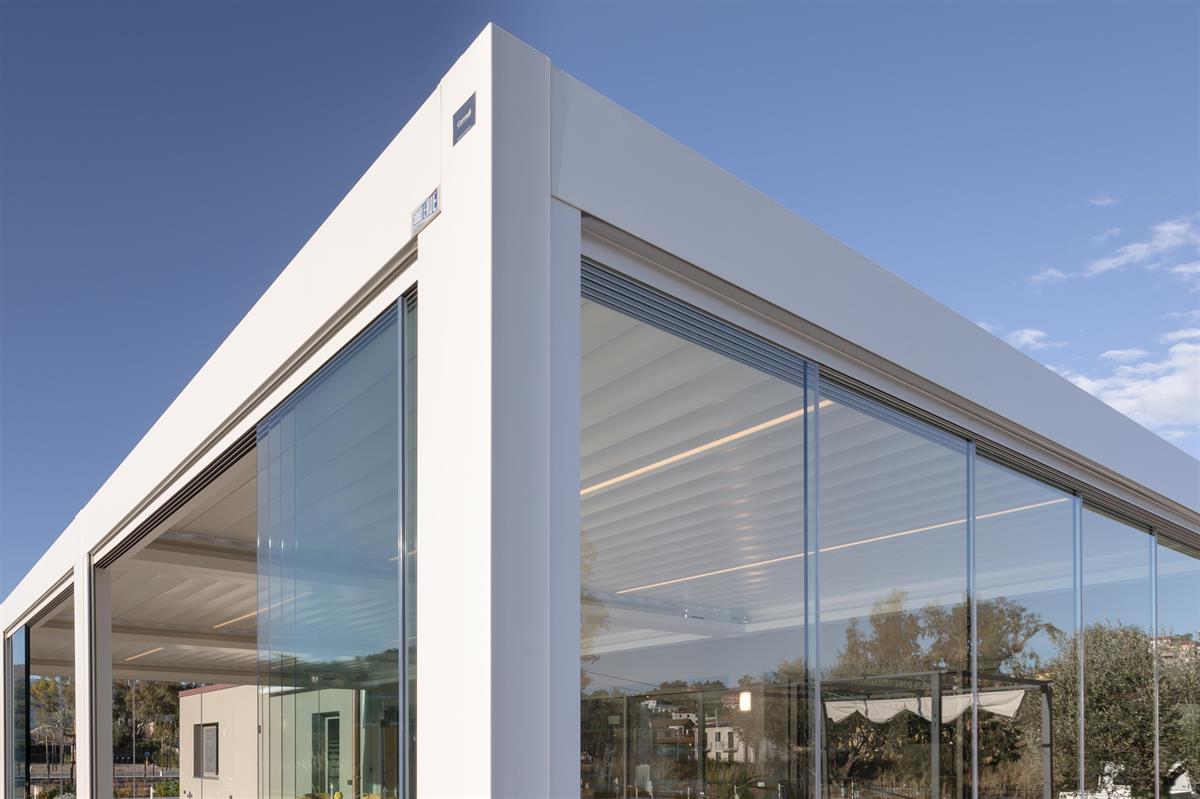 With the arrival of the winter season, side closures for pergolas are an excellent solution for continuing to enjoy outdoor spaces protected from rain and cold.

Making an outdoor space liveable many months of the year has been our mission for over 40 years. This is why we have developed a wide selection of closures to meet your personal taste and desire for more or less privacy, different levels of protection and permeability to air and light, while remaining in harmony with the elements of nature.

Equipping pergolas with side closures, sliding windows, filtering and shading fabric, as well as sun shade solutions is what you need be able to be fully protected against the cold and adverse weather conditions, ensuring optimal climatic comfort.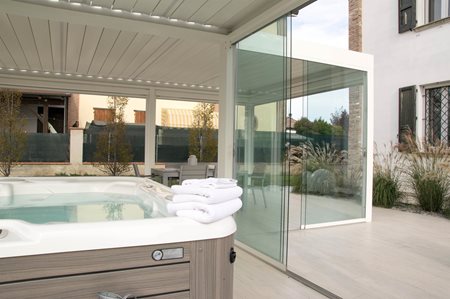 Four-season outdoors
Le chiusure perimetrali per Pergotenda® e pergole con copertura a lamelle orientabili sono elementi importanti Pergotenda® perimeter closures and pergolas with adjustable blade cover are important elements for creating customised spaces and living areas where you can choose the level of comfort and privacy and make the outdoors a unique, custom space, all year round.

In addition to the practical aspect, the aesthetic aspect also plays an important role. In fact, the side closures should be integrated into the structure for a better aesthetic result, in line with your personal tastes and the architectural context.

There are different types of closures, characterised by different materials and configurations. Listed below you can find all the Corradi solutions for enjoying your outdoor space all year round, immersed in the comfort of the most refined design.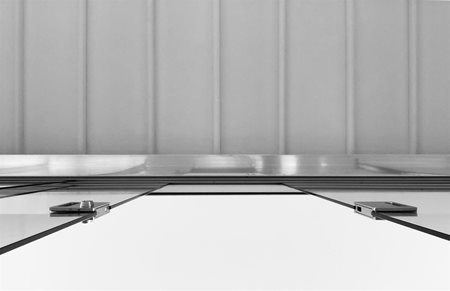 MyGlass sliding windows
Glass, resistant and discreet, is an essential and sophisticated material. The MyGlass sliding windows made of toughened glass provide complete protection from rain and draughts thanks to their vertically overlapping panels (by approximately 25 mm).
In keeping with Corradi's minimalist and elegant style, all components are concealed in the profiles and the sliders are noise-reducing so that nothing can disturb your outdoor living experience.
MyGlass allows pergolas to be closed sideways, giving continuity between the inside and the outside discreetly and maintaining the typical clean, linear style of Corradi.
Check them out on our website.

Magiko B
Vertical protections can also be provided in addition to the side closures: Magiko B is a special fabric closure that allows you to effectively protect your outdoor area without sacrificing aesthetics.
Designed down to the smallest detail, Magiko B can be perfectly integrated into the structure, especially thanks to its minimalist and discreet design.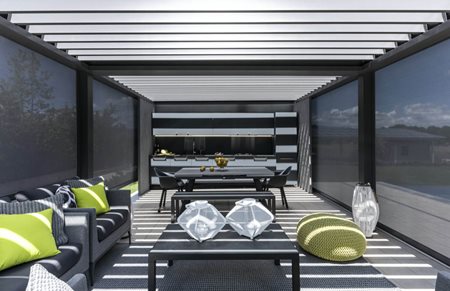 The Fabric: Brio, Ermetika® XL, Diffusa XL
The entire range of Corradi transparent, filtering and darkening fabrics provide effective outdoor protection all year round.
Brio is the new closure designed by Corradi to protect against light and weather with versatility. Some important features are available to complete the Brio profile, including the highly resistant telescopic locking system (for optimal tensioning of the canvas), the protection cassette available in two versions (11 x 12 cm or 12 x 13 cm) and the possibility to integrate LED lighting into the protection cassette to create an outdoor space that is always usable. In addition, other features include motorisation and light operated by a single remote control, minimalist runners and an extremely linear and clean design thanks to the side sliding profiles made with a click engagement system that does not require screws, gaskets or silicone application.

Ermetika® Cristal-XL is the vertical protection designed by Corradi for Pergotenda® and bioclimatic pergolas. Functional, practical and discreet, it is the ideal PVC fabric closure for delimiting and protecting even very large rooms (up to 5 m wide, with 100% Cristal fabric), guaranteeing maximum protection from humidity and atmospheric agents in any season. Ermetika® Cristal XL is also an excellent choice for existing terraces, porches or pergolas, as it allows the creation of any type of closed veranda, in which exterior and interior come together and space and leisure time dialogue in perfect harmony. In fact, the special transparent fabric does not obstruct the view but effectively shelters the environment and its furnishings.

Diffusa XL is the Corradi vertical closure which, together with other closures such as the outdoor sliding windows or the Aura aluminium and wood system, can be integrated with Corradi structures to make them even more welcoming and versatile. The filtering and shading fabrics with which it is manufactured guarantee maximum protection from the weather and help to effectively screen out light without obstructing the exchange of air.
Aura
Belonging to the Aura family of side closures, this system is composed of panels with fixed or movable blades, available in aluminium or heat-treated ash wood. An original and romantic design that characterises spaces with great elegance and warmth, where aluminium lends lightness and a contemporary style to your living space.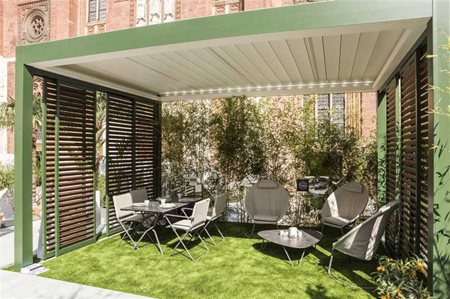 If you are looking for a closure for your Corradi pergola, you will be able to create a sheltered space without giving up the openness that every outdoor space provides: find all the solutions best suited to your space on our website. Discover them all.