Outdoors: a collective responsibility
The participants in this round table discussion led by Giorgio Tartaro are architect Gianandrea Barreca, Alessandro Gandolfo of the Gavio Group, Alessandro De Grandis, partner of Fondamenta Srl, and Davide di Marcantonio and Paolo Amoretti of Corradi.

A table discussing an important topic: thinking of the outdoors as a mission to identify new codes and responsibilities within a broader project involving many actors.

Gianandrea Barrecca offers an interesting point of view, introducing the topic by explaining that the outdoors is a space that the architect defines as a buffer between what is inside – one's home, for example – and what is outside, which represents public space.
He goes on to say, "In fact, if you think of a portico, a loggia, a walled garden or a patio as elements, you can define them all as ambiguous buffer spaces, between being inside and being outside, between private and shared ownership".

Tartaro continued the discussion by talking about outdoors in the field of real estate and then gave the floor to the guests. In the past, the terrace or the outdoor area in general was proportionately small compared to the project as a whole. Today, however, outdoor spaces have become more substantial. And while terraces were once exclusively associated with the top floors, penthouses or with extremely prestigious spaces, today the outdoors have become a part of all buildings, changing their morphology, marking the transition from continuous façade to more organic spaces.
The topic of changing the image of a building through some sort of enrichment, an extension of the outdoor spaces (whether private or collective) is one that is often discussed and that underscores how in the post-pandemic age certain needs of people have emerged that were previously only latent.

But what is the key to successfully coordinating such a complex process involving so many actors, from external customers, end users, designers and architects to building administrators?
On this the guests of our round table had no doubts: dialogue.
Dialogue does not mean just getting along, but arriving at a shared vision and values with the aim of creating a synergy that defines a unified path moving forward.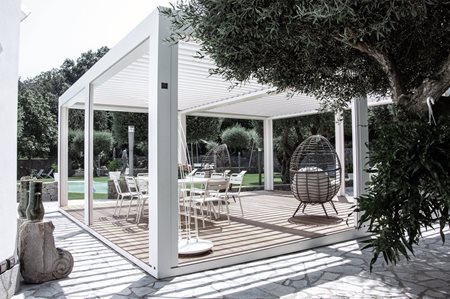 In the words of Paolo Amoretti: "Outdoors, interior, exterior and landscape through design are experiencing a splendid moment of great euphoria and opportunity". He went on to say, "The correct approach is through schemes. A team of business people and marketing professionals under the direction of architects, who together have common goals".
The real challenge for companies is to be ready to listen to these needs: Corradi has always been committed to dialogue with all project actors, but it is especially committed to understanding the needs of its consumers.

Finally, Davide di Marcantonio: "The outdoor space has changed: today a house that does not have an outdoor space is hard to sell. Therefore, an education in the value of the outdoors is needed, where the outdoor space of a residential building is managed with respect for the façade, the landscape, the apartment residents and privacy".
But what about privacy in the outdoors? According to Di Marcantonio,
"We have to accept that if a part of our life moves outside, it inevitably also becomes part of the city. There is a major change in perception where the outdoor structure becomes functional for enjoying a space, not necessarily for hiding".

The dichotomy between private and public always touches on several issues: a private outdoor structure set in an open, public space needs codification. When we talk about town planning, we cannot disregard the use of guidelines that represent what the city has expressed over time, normalising what came into being spontaneously, defining the architectural and landscape identity of a street, a square or a town.




And when we think of our European regions, rich in culture and tradition, we understand that those who deal with the outdoors have a very important task: to respect the landscapes they work in, the diversity of which enriches our country with some of the most beautiful landscapes, art and architecture in the world.