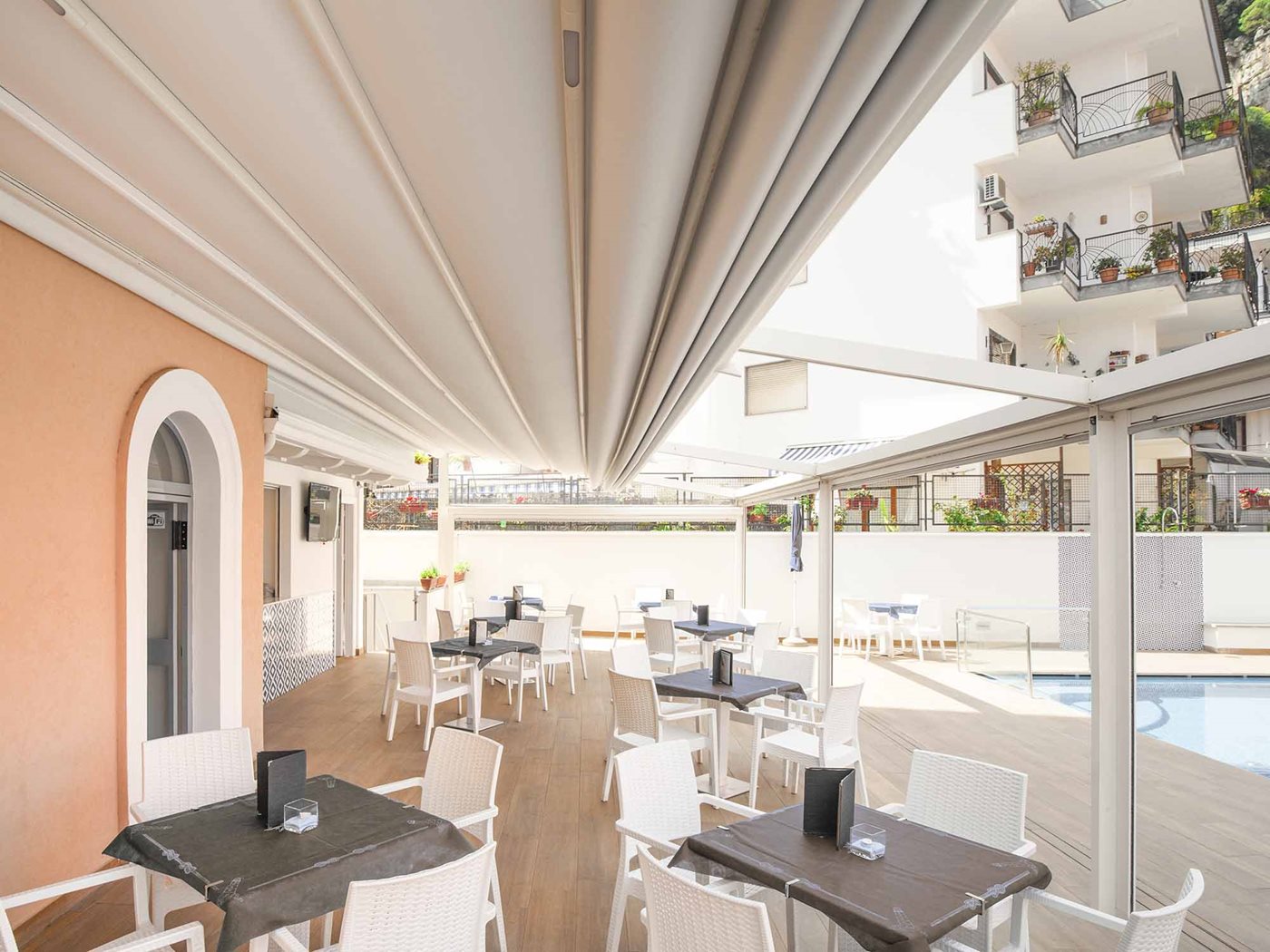 Pergotenda® Palladia®: een panoramische outdoor op het Sorrento-schiereiland
Sorrento - Italy
Een zwembad uitkijkend over de kust van Amalfi en een uitgesproken stijl kenmerken de typisch mediterrane Villa Maria in Sorrento, een toeristische accommodatie waarin contrasten verrijkend werken en de zee de hoofdrolspeler is.

Een unieke persoonlijkheid die voelbaar is in de diverse kleurnuances van de structuur, zowel in het 'perzik' aan de buitenkant en in de meer typisch mediterrane kleuren die zich binnen ontpoppen, waarin oranje tinten en het wit van de marmeren kolommen en vloeren van de gemeenschappelijke ruimtes afgewisseld worden met het groen, turquoise and aquamarijn van de meubels.
De parel in de kroon van het hotel: het terras met zwembad

Het schitterende zwembad van Villa Maria is een genot voor het oog: een stijlvol terras waar genoten kan worden van één van de mooiste panorama's ter wereld, heerlijk dobberend in het verfrissende water of in de schaduw onder het genot van een drankje. Ter bescherming werd de Pergotenda® Palladia® uitgekozen, een aluminium en roestvrijstalen structuur, met een verfijnd design, aanpasbaar naargelang van de wensen. Het terras met zwembad lijkt haast een kleine badplaats binnenin het hotel, waar bar en restaurant het plaatje compleet maken, zodat de gasten volop kunnen genieten van al het goeds.

Het meeste uit de buitenruimte dankzij het exclusieve design van Palladia®

De Palladia® is een aluminium en roestvrijstalen structuur, met een essentieel design. De structuur kan tegen een muur of wand worden aangebouwd, vlak of schuin, en past in iedere context. Als de zijwanden open staan, wordt de nadruk gelegd op de voorste hoeken, terwijl met gesloten zijwanden, het opvallende en innovatieve karakter benadrukt wordt. Deze dubbelheid geeft ruimte aan de behoefte van meer of minder privacy, voor een harmonieuze communicatie met de elementen van de natuur, waar bijna het hele jaar door van genoten kan worden.

Dankzij Pergotenda® Palladia®, komen de magie van de kust en de ontspannen atmosfeer van een suggestieve en rustgevende ruimte samen en creëren een schitterende locatie, voor een ervaring die verre van vanzelfsprekend is en volledig in het teken van comfort staat.

Locatie Villa Maria, Sorrento (NA)
Foto's Alessio Mitola voor Archikiller Lab
Bouwdirectie Scarpati forniture generali di Carmine Scarpati & C. snc