The Outdoor Touch van Corradi op de Milan Design Week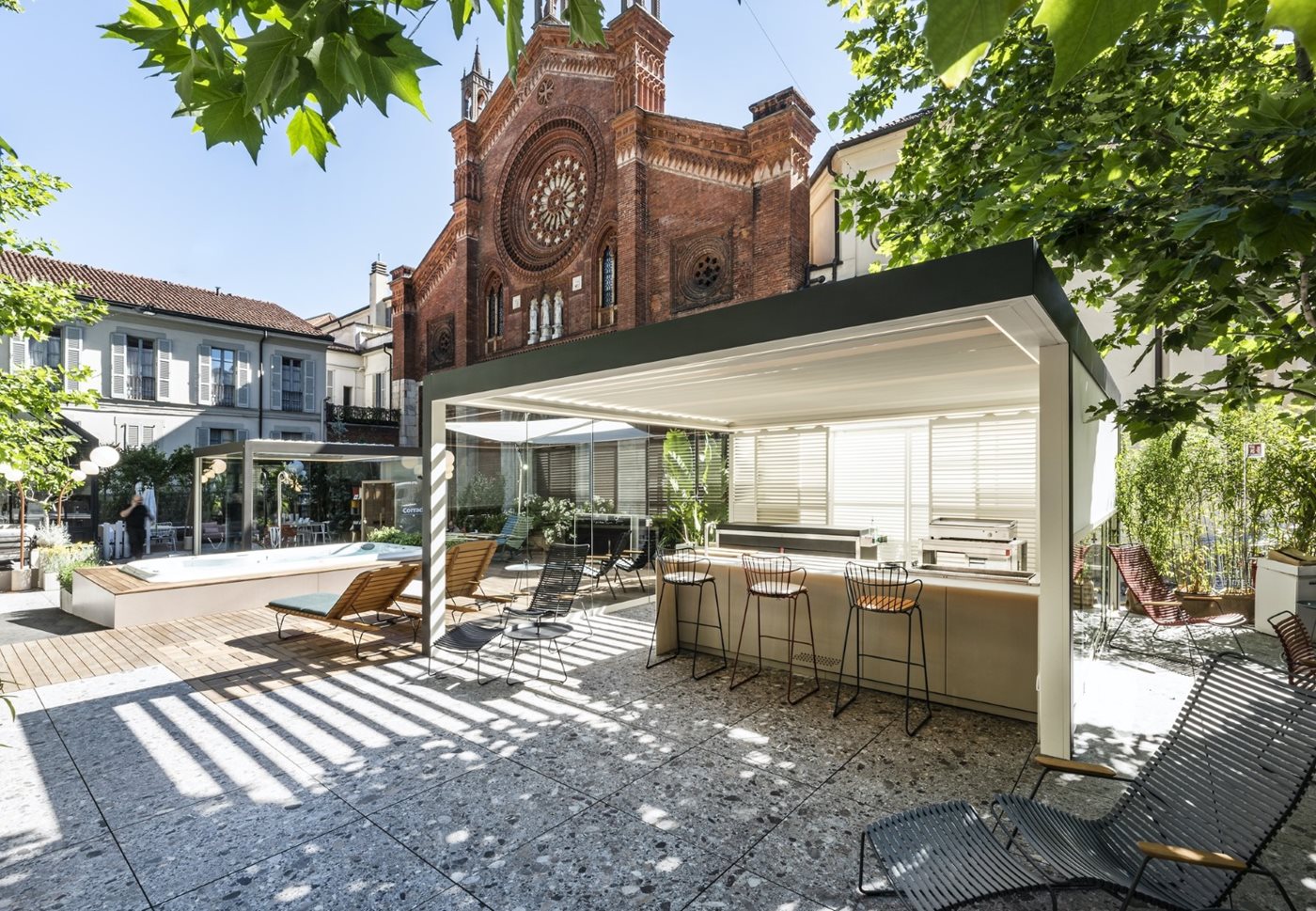 Ook dit jaar is de Milan Design Week weer een absolute must voor Corradi en het bedrijf uit Bologna zal aanwezig zijn met nieuwe oplossingen, gedurfde kleurencombinaties en een onmiskenbaar elegant en exclusief design. Piazza San Marco, in het levendige en innovatieve Brera District, is ook dit jaar weer de perfecte setting om nieuwe trends voor buiten te ontdekken en te verkennen, waar de Natuur, de materialen en the Outdoor Touch van Corradi tot uitdrukking komen.

Het plein van de 14e-eeuwse Romaans-Gotische kerk zal voor de gelegenheid in het groen gehuld worden en een locatie worden waar creativiteit en materialen samenkomen met als resultaat een suggestieve ruimte, waar Imago®, in twee verschillende en verrassende uitvoeringen, de nieuwe Alba, Pergotenda® Exyl en de Defense zonnezeilen de hoofdrol zullen spelen. De rode draad van de installatie zal het belang van de materialen in het ontwerp voor de outdoor zijn: hun concreetheid, hun structuur en hun textuur, essentiële elementen om vorm te geven, de concrete overgang van project tot creatie.

Tijdens de Milan Design Week, zullen bezoekers, architecten en ontwerpers van over de hele wereld samenkomen in de ruimtes van Corradi en genieten van de kick-off van "The Outdoor Voices": een format dat Corradi ook de rest van het jaar zal vergezellen, waar personages uit de wereld van design, architectuur, sport en spektakel aan deel zullen nemen om de dialoog over de outdoor te verbreden, te verspreiden, en verhalen, gedachten en ervaringen te verzamelen om de wereld outside te verkennen.

"De Milan Design Week is voor ons een absolute must en dit jaar wordt dit evenement eindelijk weer gehouden zoals traditioneel. We moeten alleen niet misleid worden om te denken dat alles weer is zoals voorheen, maar ook niet om te denken dat we nu in een zogenaamde new normal leven. We zijn er namelijk van overtuigd dat het een bijzonder creatieve periode is, van overgang naar de next normal, waarin we veel kunnen leren en zoeken naar een nieuwe dimensie die op maat gemaakt is. De Milan Design Week is voor Corradi hét moment van de dialoog die onze maatschappij steeds meer doordringt: de rol van de buitenruimtes in het ontwerp, in de creatie en in het dagelijks leven." Aldus Sully Briskomatis, Marketing & Communication Manager van Corradi, met de toevoeging: "Dit jaar hebben we gekozen voor The Outdoor Touch als concept voor onze aanwezigheid, om te benadrukken hoe outdoor living een diafragma is dat binnen en buiten met elkaar op tastbare wijze in verbinding stelt, om leefbare plekken te creëren in de openlucht en niet gewoon maar buitenruimtes. Voor ons is het de "touch" die, ook op tactiele wijze, plekken creëert die uitdrukking worden van welzijn".