Het recept voor geluk: barbecue, vrienden en outdoor.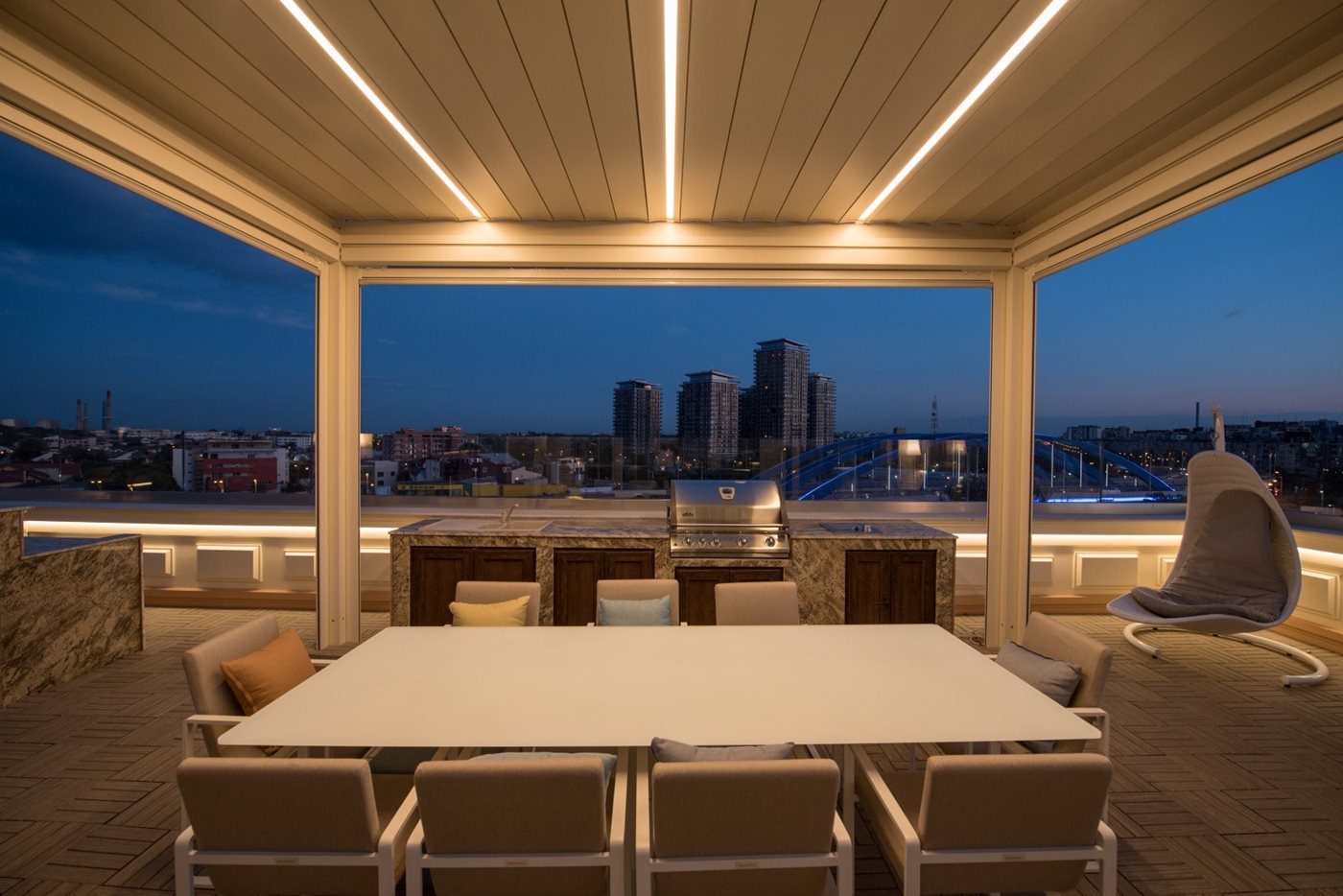 Nu het weer warmer wordt, krijgen we ook vaker de kans om te genieten van de buitenlucht, samen met vrienden of familie. Een fijn hoekje voorzien van alle gemakken om zoveel mogelijk uit onze tuin, patio, terras of balkon te halen, wordt essentieel om volop te kunnen genieten van het samenzijn met vrienden of familie. Diner, lunch of picknick, de Barbecue is de Koning van het feest, de hoofdrolspeler van onze momenten van ontspanning in contact met de natuur.

Een hete grill, verleidelijke geuren waar de buren jaloers op worden, dragen bij aan die unieke en gezellige sfeer, waarin de outdoor een theater wordt en een ruimte van samenzijn.

Pergola's met lamellendak, Pergotenda® en schaduwdoeken kunnen bescherming bieden tegen de zomerzon of een avondbries voor een ideale plek om samen te komen in de buitenlucht, op ieder moment van de dag. De keuken verhuist naar buiten en neemt alle gemakken van het huis met zich mee, speciaal herontworpen voor de outdoor.

Voor de ideale plek om te barbecueën in de tuin, moeten er alleen wel een aantal maar fundamentele voorzorgsmaatregelen worden getroffen:
• Als eerste moet bekeken worden waar we gaan eten, want de plek moet goed beschermd zijn tegen de zon en de avondmist: een zone die bijvoorbeeld beschermd wordt door een pergola of een zeil.

• Kies dus de plek voor je barbecue met zorg uit. Zorg daarnaast dat er geen brandbare dingen, zoals bomen of struiken, in de buurt zijn en dat het goed geventileerd is. Houd ook rekening met de gasten en plaats de barbecue zo dat de plek makkelijk te bereiken is en niet te ver van het eetgedeelte.

• Laat voldoende ruimte over voor het BBQ-gereedschap, de borden, het bestek en andere accessoires die nodig zijn bij het koken. Je kan nog een extra werkvlak toevoegen om alles in de buurt te hebben tijdens de voorbereiding.

• De zone waar de barbecue geplaatst wordt, moet goed geventileerd zijn zodat rook en hitte geen overlast bezorgen tijdens het eten en verder is het van belang dat er een aantal veiligheidsmaatregelen worden getroffen, zoals het plaatsen van een afzuigkap en een brandblusser of een waterbron in de buurt van het vuur.

Als je deze tips volgt, dan kan ook jij in je tuin de perfecte BBQ-zone maken, voor een gezellige plek om te barbecueën samen met je vrienden.

Veel plezier en eet smakelijk!